Embark on an extraordinary journey with our intimate group tour in Tibet. Explore the exceptional cultural history of this distinct area, nestled amidst the magnificent Himalayan mountains. This adventure-filled trip combines awe-inspiring landscapes with in-depth cultural exploration. Connect with fellow travellers and form lifelong memories as we together unveil the marvels of Tibet. Ideal for those seeking to dive into a truly unique world, our tour promises daily moments of awe and discovery.
Journey to the Roof of the World: Discover Tibet's Hidden Treasures
Day 1: Arrival in Lhasa
---
Welcome to Lhasa! As you arrive, our English-speaking guide and driver will greet you with a warm welcome. On your way to Lhasa, you'll have the chance to visit the famous Sera Temple, known for its active monastic university. Here, you can witness monks engaging in lively debates over Buddhist scriptures. Take time to wander through the temple garden and discover rare Buddhist manuscripts, some written in exquisite gold ink. This is just the beginning of your immersive journey into Tibetan culture.
Day 2: Exploring Lhasa
---
Start your second day in Lhasa with a visit to the grand Potala Palace, an iconic symbol of Tibet. This historic palace served as the Tibetan government's headquarters and was the winter home of the Dalai Lamas. Next, explore the Jokhang Temple, a sacred site that houses a unique statue of Sakyamuni, believed to be 12 years old, and revered in world Buddhism.
Cap off your day with a leisurely walk around Barkhor Street. This famous path, which circles the Jokhang Temple, is a vibrant centre of Tibetan culture and trade. Here, you can soak in the local atmosphere, observe traditional Tibetan life, and perhaps find some unique souvenirs.
Day 3: Discovering More of Lhasa
---
Your third day in Lhasa begins with a visit to the Drepung Monastery, historically one of the largest monastic institutions, once housing up to ten thousand monks. This visit provides a profound insight into the religious and communal life of Tibetan monks.
In the afternoon, you'll explore Norbulingka, the largest man-made garden in Tibet. This serene haven boasts a picturesque courtyard, an elegant palace, and lush forest areas, offering a glimpse into the natural beauty of Tibetan landscapes.
Day 4: Journey from Lhasa to Gyantse
---
Today, your adventure takes you from Lhasa to Gyantse. Begin by travelling to the enchanting Yamdrok Lake, revered as one of the three holy lakes in Tibet. This lake is not only a natural wonder but also holds spiritual significance, believed to assist in identifying reincarnated lamas.
Take a moment to enjoy a peaceful walk along the shores of the lake, absorbing its serene beauty. Afterwards, continue your journey to Gyantse. Along the way, make a stop at the Karola Pass, where you'll be treated to breathtaking views of the Nojinkangtsang Glacier, a truly awe-inspiring sight.
In Gyantse, visit the Palcho Monastery, a distinctive religious site where three schools of Tibetan Buddhism – the Gelugpa, Sakyapa, and Buton – coexist harmoniously. This visit offers a unique perspective on the diverse spiritual practices within Tibetan Buddhism.
Day 5: Gyantse to Shigatse
---
Begin your day by exploring Gyantse Dzong, a historic fortress renowned for its valiant past. This site offers a glimpse into Tibet's rich history and strategic significance.
Afterwards, set off for Shigatse. En route, visit the Shalu Monastery, notable for its fusion of Han and Tibetan architectural styles, showcasing a unique blend of cultural influences.
Once in Shigatse, discover the Tashilumpo Monastery, a prominent spiritual centre housing extraordinary treasures and artefacts.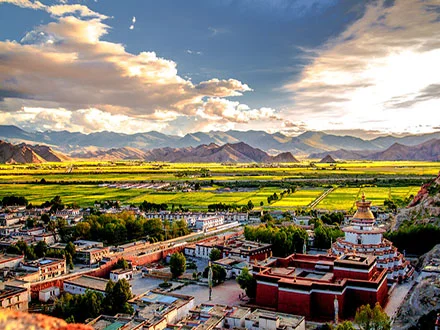 Day 6: Shigatse to Lhasa
---
Start your day in Shigatse with a visit to a lively morning market, where you can experience local life and perhaps find some unique items.
Next, explore the Tashilumpo Monastery, home to the world's largest copper Buddha Maitreya statue. This awe-inspiring sight is a highlight of Tibetan Buddhist art.
Join local pilgrims on a kora, a sacred circuit walk around the monastery, immersing yourself in the spiritual atmosphere.
Conclude your journey by returning to Lhasa along the scenic Yarlung Zangbo River. Along the way, visit an artisanal incense factory, offering insight into traditional Tibetan crafts. This day promises a blend of cultural immersion, spiritual encounters, and scenic beauty.
Day 7: Departure from Lhasa
---
On your final day, enjoy some leisure time to relax or explore Lhasa at your own pace. When it's time, we will provide a transfer to Gongar Airport for your departing flight. This marks the end of your memorable journey through Tibet, filled with cultural insights and natural wonders. Safe travels!
Price and Inclusions
---
Includes:
Accommodation with breakfast
Private vehicle transfers
English-speaking guide
Meals as per itinerary
Attraction entry tickets
Excludes:
Domestic flights to/from Lhasa
Unspecified meals
Tips for guides and drivers
Personal expenses
Accident, repatriation, and illness insurance
Cancellation Policy:
Over 14 days before arrival: 70% refund
13-7 days before arrival: 50% refund
6-3 days before arrival: 25% refund
Less than 48 hours/no-show: No refund
Possible Extension:
Enhance your trip with the Qinghai-Tibet railway experience, traversing one of the highest train routes in the world with stunning views of the Tibetan plateau.
Important Note:
Travel to Tibet usually requires a special permit. Some areas may offer limited amenities. High altitudes may not suit everyone, particularly those with certain health conditions.
Embark on an unforgettable adventure in Tibet, filled with cultural richness and natural splendour. Join us for a journey of discovery and friendship.