The Guangzhou Lhasa train is also known as Tibet Train. It is one of the main routes connecting Guangzhou, located in southern China, to Lhasa, the capital city of Tibet. The Guangzhou Lhasa train began operating in July 2006. The train journey from Guangzhou to Lhasa typically takes around 52 hours. The train departs from Guangzhou Railway Station and travels through several cities and provinces, including Guangxi, Guizhou, Sichuan, and Qinghai. It finally reaches Lhasa in Tibet.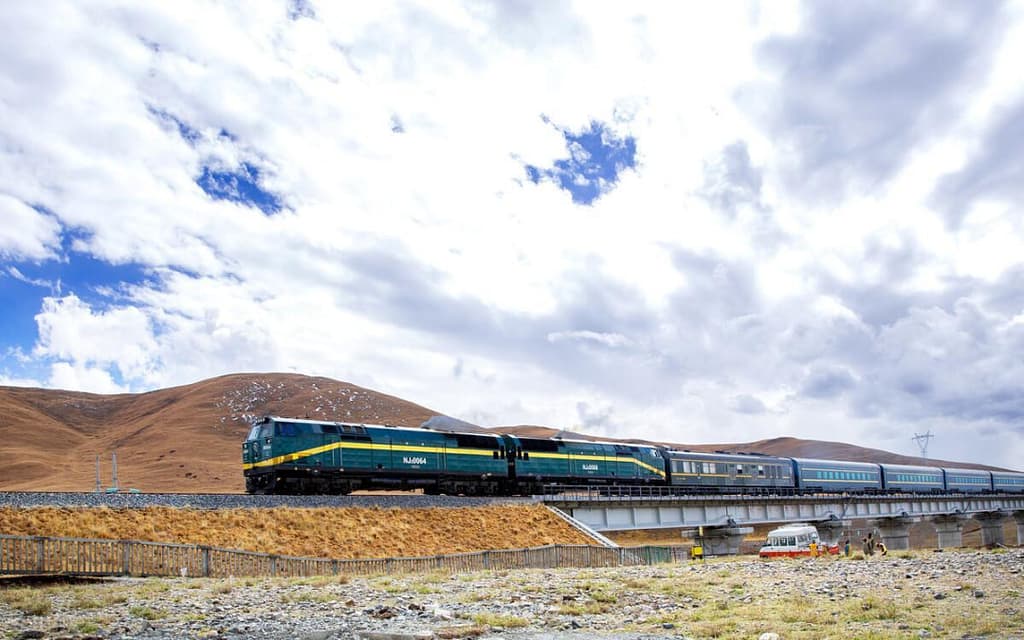 Here is some information regarding the train schedules, arrival and departure times, and durations:
Train No.
Depart
Arrival
Run Time
T264
Guangzhou
11:40
Lhasa
17:00 (3rd day)
53 Hrs
T265
Guangzhou
10:32
Lhasa
16:56 (3rd day)
54 Hrs
There are usually two trains that operate on this route, both offering sleeper carriages for passengers. The schedules may vary, so it is advised to check with the railway authorities or online ticketing platforms for the most up-to-date information.
The train journey from Guangzhou to Lhasa takes about 52 hours. Factors like weather and railway maintenance can affect the duration. It's recommended to book tickets ahead of time, especially during peak seasons. Make sure to obtain permits and documents for travelling to Tibet beforehand.
Train Built for High Altitude
Like every Lhasa-bound train, the train from Guangzhou to Lhasa is also specifically designed for the high altitude environment and equipped with advanced facilities, such as air-conditioning, supercharging system, oxygen supply, altitude display, and more. Additionally, the train is tightly sealed to maintain normal air pressure and discourage littering. Furthermore, all the carriages feature double-paned windows and ultraviolet filters to shield passengers from ultraviolet radiation.
Latest Timetable and Schedule of Guangzhou Lhasa Train
The train from Guangzhou is one of the longest routes to Lhasa and encompasses three days of travelling. The route is mainly just open countryside for most of the trip through China, though it will pass through some major cities, such as Chenzhou, Lanzhou, Wuchang, and Xi'an, on its route to Lhasa.
The timetable of the Guangzhou to Lhasa Train – No.Z264
| Station | Arrival | Departure | Stop Time |
| --- | --- | --- | --- |
| Guangzhou | —- | 11:40 | —- |
| Chenzhou | 15:31 | 15:34 | 3 min |
| Changsha | 19:06 | 19:12 | 6 min |
| Wuchang | 22:38 | 23:00 | 22 min |
| Zhenzhou | 03:40 (Day 2) | 03:46 (Day 2) | 6 min |
| Xián | 09:44 (Day 2) | 09:54 (Day 2) | 10 min |
| Laanzhou | 16:43 (Day 2) | 16:58 (Day 2) | 15 min |
| Xiníng | 19:23 (Day 2) | 19:43 (Day 2) | 20 min |
| Delingha | 00:06 (Day 3) | 00:08 (Day 3) | 2 min |
| Gormo | 02:36 (Day 3) | 03:01 (Day 3) | 25 min |
| Amdo | 11:29 (Day 3) | 11:33 (Day 3) | 4 min |
| Nakchu | 12:52 (Day 3) | 12:56 (Day 3) | 4 min |
| Lhasa | 16:56 (Day 3) | 16:56 (Day 3) | —- |
Guangzhou Railway Station
It is one of the major transport hubs in China, and it serves trains on both the Guangzhou-Shenzhen Railway and the Beijing-Guangzhou Railway. While there are three other stations in Guangzhou, only the main station serves trains to Lhasa, and it has easy access from all other stations as well as the airport and city centre.
The station is a two-story building with a main front square. The ground floor has ticket windows, four waiting rooms, luggage storage areas, and fast-food restaurants. The second floor has seven additional waiting rooms and a large shopping area. The ticket hall is located at the western end of the building, and passengers can collect their pre-booked tickets from any open window. The windows are open 24/7, and you will need your passport, booking number, and Tibet Travel Permit to collect your ticket.
Guangzhou Baiyun Airport to Railway Station
Buses from Baiyun International Airport take about 45 minutes to cover the 30km distance and cost CNY18. They depart every 20-30 minutes from 5:00 am to 11:00 pm daily. The city's Subway line also serves the railway station. Metro line 1 will take you to Jiahewanggang Station, where you can transfer to line 2 for Guangzhou Railway Station. Subway tickets cost CNY7 and the journey takes approximately 50 minutes. Taxis are also available and cost approximately CNY90 from the airport to the railway station.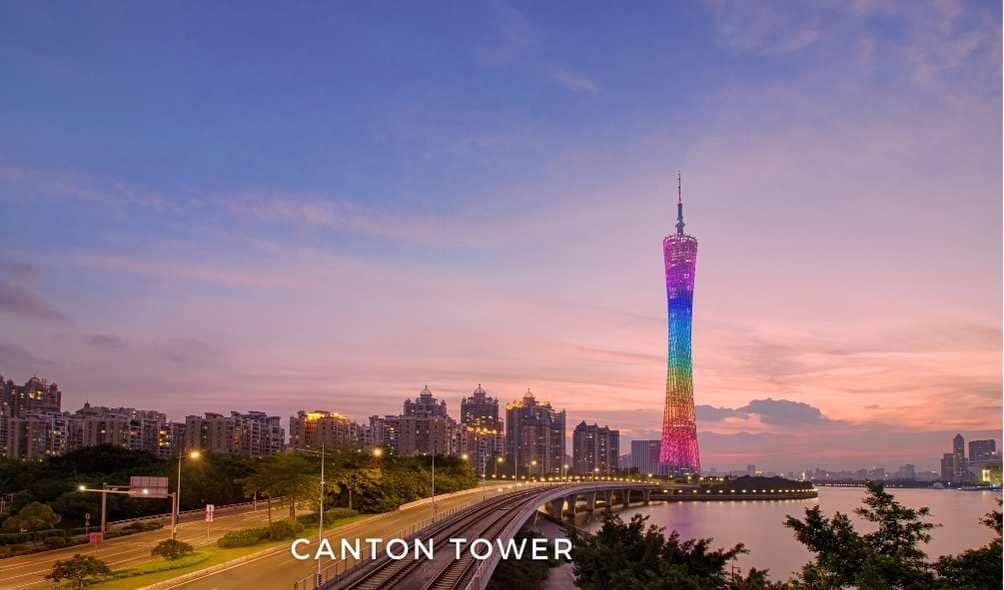 Popular destinations to explore in Guangzhou
Canton Tower: This iconic landmark offers stunning views of the city from its observation decks and features various entertainment options.
Yuexiu Park: One of the largest parks in Guangzhou, it is home to historical attractions like the Five Rams Statue and the Zhenhai Tower.
Chen Clan Ancestral Hall: This beautiful complex showcases traditional Cantonese architecture and houses the Guangdong Folk Art Museum.
Shangxiajiu Pedestrian Street: A bustling shopping street with traditional architecture, it offers a wide range of shops, restaurants, and street food.
Shamian Island: A historic and picturesque island with colonial-era buildings, it offers a peaceful escape from the city buzz.
Guangzhou Opera House: Designed by renowned architect Zaha Hadid, this modern architectural masterpiece hosts various performances and events.
Guangdong Museum: An impressive museum showcasing the history and culture of Guangdong province through its exhibits and interactive displays.
Chimelong Paradise: A popular theme park with thrilling rides, live shows, and a large zoo featuring various animals.
Baiyun Mountain: A scenic mountain range with hiking trails and beautiful natural surroundings, it offers panoramic views of the city.
Temple of the Six Banyan Trees: A Buddhist temple with a history dating back over a thousand years, it is known for its towering pagoda and religious artefacts.
Tibet Travel Permit is Must needed document to take Guangzhou Lhasa Train
To travel to Tibet from Beijing by train, you need a permit. You can book tickets without them, but you must have them to board the train. Backpackers cannot enter Tibet independently, so you need a travel agency to help you apply for the Tibet Travel Permit in advance. The permit and your ticket will be checked during check-in. A photocopy of the permit is acceptable in Beijing. Usually, travel agencies obtain the permit a few days before your train journey and deliver it to your hotel. Once approved, the train ride offers breathtaking views and encounters with Tibetan culture. It also provides time for introspection and a sense of tranquillity. The permit is worth the effort for the transformative experience of exploring Tibet's beauty, culture, and spirituality.
To explore Tibet by train, you need a Tibet travel permit. This permit is crucial and different from a Chinese visa. To obtain it, book a tour with a registered travel agency in Tibet. They will assist with the application process and provide knowledgeable guides. Apply in advance with accurate personal information to avoid rejection.
What sort of window view do we expect to see on Tibet Train?
Just like a car road trip, one can enjoy the scenery on both sides. The stunning scenery along the Beijing-Lhasa railway will never disappoint. As the train passes Xining and enters the Golmud region, breathtaking views appear one after another. Capture this memorable experience with your camera. Major attractions include Qarhan Salt Lake, Yuzhu Peak, Kekexili Nature Reserve, Tuotuo He River, Tangula Pass, Tsonag Lake, Qiangtang Prairie, Namtso, etc.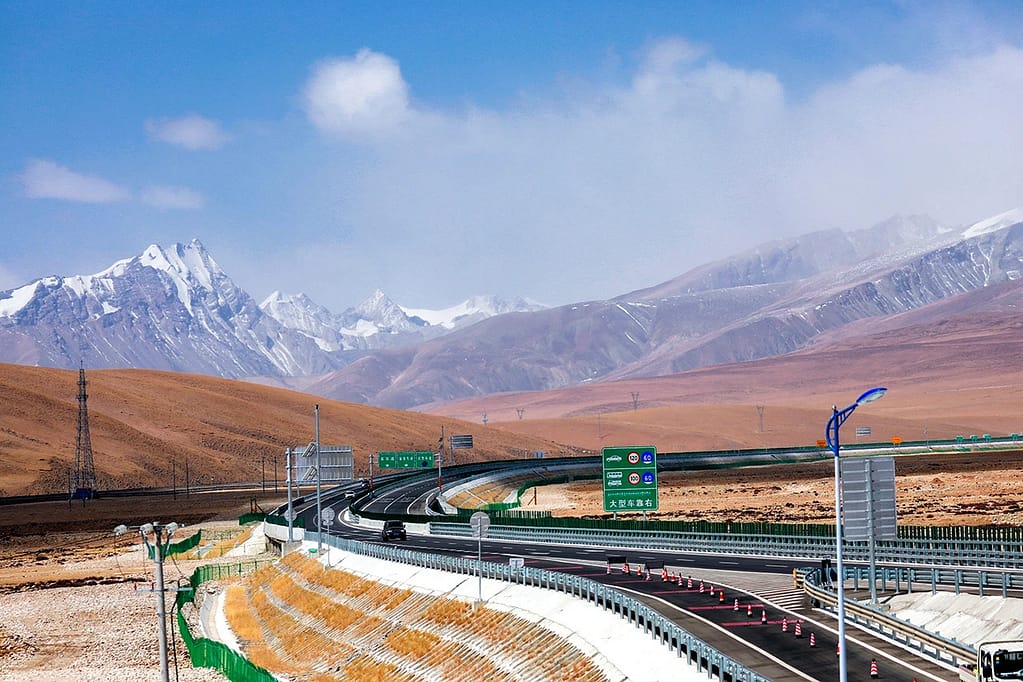 Riding the Qinghai-Tibet train is an unforgettable experience. The train is designed for high altitudes and offers breathtaking views. For more information on the scenery, Please check here.
Travel Tips for Catching Your Train
Verify your train ticket and ensure that you arrive at the appropriate train station.
You will be granted access to the train 30 minutes prior to the scheduled departure time. The train will be sealed off 5 minutes before departure, so make sure to be punctual.
While waiting in the designated area, please consult the real-time train schedule and a display showing the boarding time for your train.
Form a queue for the ticket inspection conducted by the ticket collectors or insert your ticket into the turnstile (be certain to select the correct platform).
Present your ticket to the train attendant stationed at the doorway of your train carriage before embarking on your journey.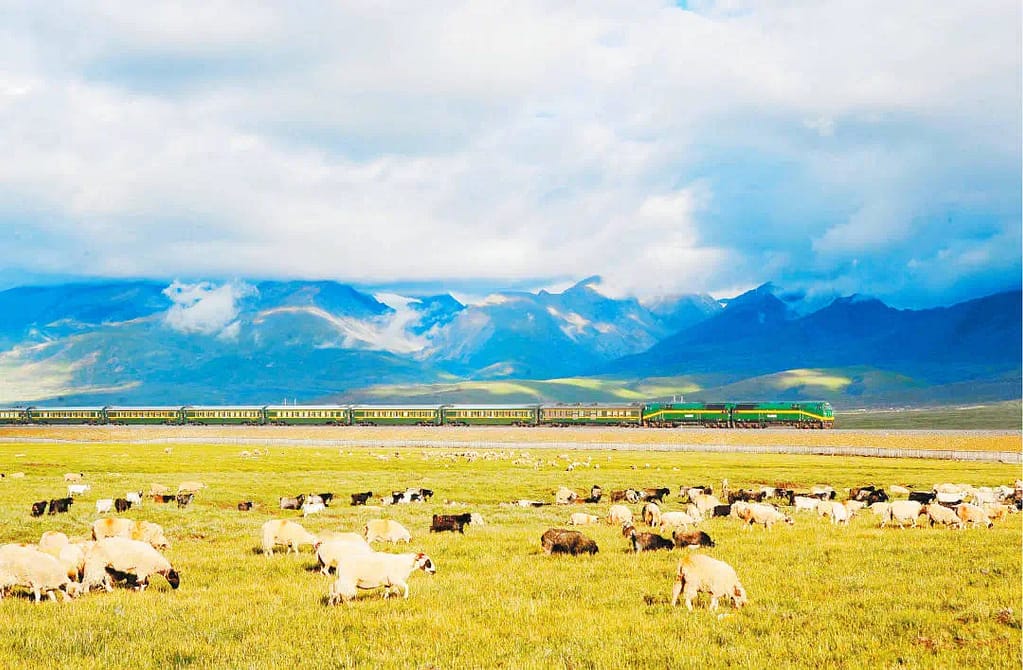 Important things to
Note:
The schedule above is only for reference.
Foreign tourists must obtain a Tibet Entry Permit before buying a train ticket to Tibet. Ticket-only service is not available.
Tibet train tickets sell out fast, so inquire 3-5 months before departure.
Limited tickets from Beijing to Lhasa, so fly to Xining and take a train to Lhasa instead.
Feel free to contact us to inquire about customizing a Tibet tour that includes a flight to Tibet. We will respond to your inquiry within 24 hours.
The link for the official ticket booking website is www.12306.cn  . since there is no English service. Find someone who can read the Chinese language for help.