After an arduous four-year construction process, filled with countless challenges and setbacks, the magnificent high-elevation Lhasa to Shigatse Railway was joyfully unveiled to the eagerly awaited public on August 15, 2014. This remarkable railway, an extension of the renowned Qinghai-Tibet Railway, stretched across a breathtakingly picturesque landscape, with altitudes ranging from 3,600 to 4,000 meters.
The Z8801 train from Lhasa to Shigatse was a highly anticipated and exciting journey. Passengers from all over the world were eager to experience the wonder of this new railway and explore the treasures of Shigatse. The train had luxurious seats and wide windows. It travelled through breathtaking landscapes, including the stunning Tibetan plateau with its majestic mountains and lush valleys. Passengers were in awe of the beautiful scenery, feeling amazed by nature's grandeur.
The Schedules for Lhasa to Shigatse Train
Train No
Departure
Arrival
Duration
C891
Lhasa
08:20
Shigatse
10:42
2.37 Hrs
C882
Lhasa
16:15

Shigatse
18:39
2.4 Hrs
The Schedules for Shigatse to Lhasa Train
Train No
Departure
Arrivals
Duration
C892
Shigatse
11:05
Lhasa
13:26
2.35 Hrs
C924
Shigatse
17:45
Lhasa
20:20
2.58 Hrs
C894
Shigatse
19:00
Lhasa
21:29
2.48 Hrs
About Lhasa Train Station
Situated at an altitude of 3600m, the Lhasa railway station is the largest railway station along the Qinghai-Tibet railway line, covering an area of 22 thousand square meters. Its completion marked the establishment of a vital passage for economic prosperity and cultural exchange between Tibet and inland China.
Tel: 9823-985-059 or 9888-036-007
Add: Liuwu Village, Deqing County, Lhasa City (拉萨市堆龙德庆县柳梧乡)
About Shigatse Train Station
Shigatse Train Station in Tibet, China, is a bustling hub that serves as a gateway to the breathtaking region. The station blends traditional Tibetan architecture with modern amenities, and colourful prayer flags adorn the exterior. Inside, travellers prepare for their journeys with ticket counters, waiting lounges, and information booths. Specially designed trains navigate the challenging terrain, offering panoramic views of the snow-capped Himalayas and picturesque villages. The popular route to Lhasa, known as the "Sky Train," passes through the highest railway in the world, offering mesmerizing vistas. Nearby, the Tashilhunpo Monastery, one of the largest and oldest in Tibet, provides a spiritual experience. Shigatse Train Station invites adventurers, nature lovers, and spiritual enthusiasts to explore the wonders of Tibet.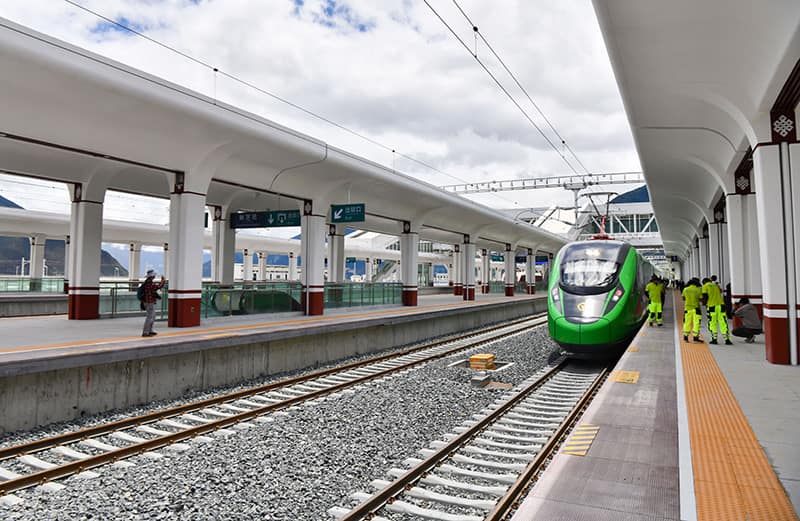 Travel Tips for the first-time Traveller
We do not recommend tourists take the newly-built train from Lhasa to Shigatse. It would be more rewarding to travel to Shigatse by the Lhasa – Gyangtse – Shigatse Highway. Along this route, you can visit Yamdrok Yutso Lake, Karola Glacier, Gyangtse Palkor Monastery, and more. After finishing sightseeing in Shigatse, you can return to Lhasa by the Shigatse-Lhasa Railway along the Yarlung Tsangpo River. This loop trip combines road and railway tours, allowing tourists to have unparalleled land sightseeing and a railway experience.
Fascinating aspects of the Lhasa to Shigatse train.
The Lhasa-Shigatse train, an extension of the Qinghai-Tibet railway, offers a completely different view compared to its predecessor. This railway line distinguishes itself from the Qinghai-Tibet railway in three main aspects.
The train travels through the 90-mile-long Yarlung Tsangpo River valley, providing a magnificent view of the river.
The pastoral and farming scenery along the railway line is a picturesque sight not to be missed. Peasants typically sow barley seeds in spring and diligently harvest mature barley in autumn.
Another notable feature of the Lhasa-Shigatse train is its average altitude of 3500m, offering a sickness-free environment ideal for sightseeing.
Shigatse Known as Gateway to Everest
Shigatse, known as the "Gateway to Everest," beckoned with its majestic peaks and spiritual allure. The train gracefully glided into the station, signalling the end of an extraordinary journey and the beginning of a captivating exploration of this mystical city. The completion of the Lhasa – Shigatse Railway was not merely a feat of engineering but a testament to human determination and ingenuity. It opened up a world of possibilities, connecting communities and fostering cultural exchange.
The Lhasa – Shigatse Railway is not just a transportation mode but a symbol of unity, bridging the past and present. It draws global travellers, offering a captivating journey through Tibet. Its allure and charm endure, captivating imaginations.
To explore Tibet by train, you need a Tibet travel permit. This permit is crucial and different from a Chinese visa. To obtain it, book a tour with a registered travel agency in Tibet. They will assist with the application process and provide knowledgeable guides. Apply in advance with accurate personal information to avoid rejection.