As one of the largest groups of foreign tourists visiting Tibet each year, American tourists can reach Tibet relatively easily due to the large number of flights from cities across the United States to Chinese cities, many of which are direct to China and have no stopovers. More than one million U.S. citizens travel to the region each year, and Tibet is visited mostly in spring and autumn when the weather is the best season for hiking and sightseeing. One of the most attractive places for American tourists is to travel from Lhasa to the base camp of Mount Everest, the most popular attraction on the plateau. Here we will explain how easy it is to travel from the United States to Tibet, as well as the best options for traveling.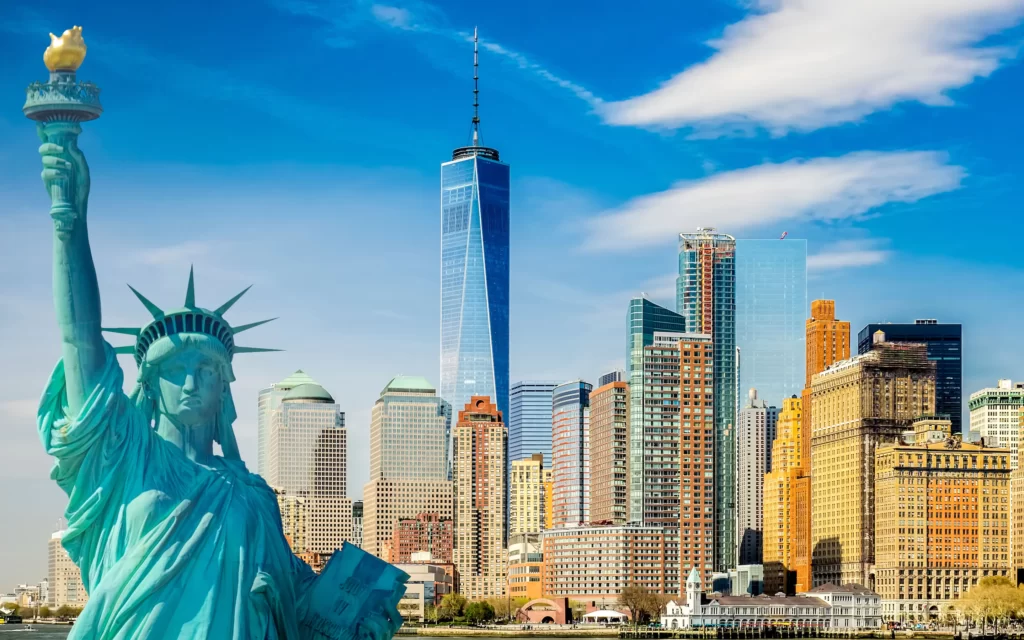 How do Americans get to Tibet?
When traveling from the United States, there are two ways to enter Tibet, one is to fly into China, by flight or train to Lhasa; the other is to fly into Nepal, from Kathmandu to Lhasa; and the other is to travel overland through the Sino-Nepal border in Kyirong
Airlines operate a variety of classes for tickets and depending on your requirements, the cost can vary greatly. It is best to search around for the best-priced tickets using online comparison websites to get the best deals. For many travelers to China from the U.S., stopping in Hong Kong first is the best option, as there are fewer connections for Hong Kong from the U.S. than for China. On average, flights to Hong Kong from the western seaboard of the United States can cost as little as US$ 600, or as much as three thousand dollars. From Hong Kong, you can get flights to any city of your choice for your journey to Lhasa.
From the US to Tibet via mainland China
Travel to Tibet from mainland China can also be done in one of two ways for American citizens. Flights leave several of the major cities across China on a daily basis, and include airports in Beijing, Shanghai, Chengdu, Chongqing, Kangding, and Xining, to name a few. Prices can vary greatly, depending on the city of departure, and the cheapest option for flights is from Chengdu, Chongqing, Kangding, and Xining.
The United States travels to Tibet via Mainland China
When traveling from the United States to mainland China, visitors can choose from a number of departure and destination cities in both countries. Flights from the United States take off from many airports across the country.In the Pacific time zone, flights depart from Seattle, Los Angeles and San Francisco, while in the mountains, flights depart from Phoenix, Denver and Salt Lake City.Flights from the central time zone of the United States from Dallas, Michigan, Chicago, and Mississippi; flights from the Eastern coast from New York, New Jersey, Miami, Tampa, Washington, D.C., and Philadelphia. Flights from the United States to Mainland China
For flights to mainland China, you can fly to Beijing, Shanghai, Guangzhou, Chengdu, Chongqing, Xi'an and other parts of China
From the US to Tibet via Nepal
Travel from Nepal toTibet can be done by flight or by overland travel from Kathmandu. Flights leave Kathmandu's Tribhuvan International Airport daily and take just 90 minutes to get to the Lhasa Gonggar International Airport at the region's capital city. The average cost of the flight is around US$ 275, although this depends on the season of travel and the airline. There are currently only three local airlines that run flights to Lhasa from Kathmandu, and all are Chinese-owned.
Since 2017, the border crossing at Gyirong Port on the Nepal/Tibet border has been reopened for international travel. This means that tours can now enter and exit Tibet via Nepal overland, and you can travel this way to Lhasa on an arranged tour with your tour operator. We currently run Tibet Nepal Overland tours that start in Lhasa and end in Kathmandu, and vice versa, so you have plenty of options to choose from.
Required Documents for Tibet Tour from the US
Travel in Tibet has always been subject to strict control, and today there are a number of documents that are required to get into and travel around the region. From the visa to enter China to the Border Pass required to get to Everest, all of these documents must be processed correctly in order to be able to actually make the trip to Tibet.
Chinese Entry Visa for Tibet Tour from the US via Mainland China
Available from the Chinese Embassy in several states in the U.S., the Chinese Entry Visa is required for all American citizens traveling to Tibet. The visa for China can be obtained from the Embassy of the People's Republic of China in Washington D.C., or from a number of Chinese Consular offices, which are located in Chicago, Houston, Los Angeles, San Francisco, and New York City. For American citizens, the visa costs around US$ 140.
The requirements for the visa are a valid passport with at least six month's validity at the time of travel and two blank visa pages, the completed application form with a passport-sized photo attached, and any copies of previous Chinese visas that you have had in the past. If the previous Chinese Entry Visa was in an old passport, a photocopy of the data page and visa from that passport is required. You will also need to show documents providing your planned itinerary in China, proof of hotel reservations, and a round-trip air ticket booking confirmation. It should be noted that it is best NOT to mention Tibet on your itinerary or visa application. This may cause problems with your visa application if your intention to enter Tibet is included.
American citizens with Chinese heritage should contact the Embassy for visa requirements, as they differ from other U.S. national's requirements.
Group Tourist Visa for Tourists from the US via Nepal
Unlike when traveling from China, there is a different kind of visa for travel to Tibet from Nepal. This is known as the Group Tourist Visa, and can only be applied for in Kathmandu through a registered Tibetan tour operator. Although called a "group" visa, it can be applied to an individual traveler on a tour of Tibet as well.
The Group Tourist Visa requires your Tibet Travel permit, your original passport, and one passport-sized photo for the application process. Once you have booked your tour with a tour operator, they will make the application for your Tibet Travel Permit using a photocopy of your passport. Once obtained, you will be contacted once you reach Nepal to get your passport and make the application for the visa. Only the representative of the tour operator can do this, and the Embassy in Kathmandu will not entertain applications from individual travelers.
The processing time is normally three business days, and once completed, the visa and your passport will be returned to you at your hotel. You should plan to arrive in Kathmandu at least 5 days before your expected date of travel to Tibet for the visa processing. If your passport already contains a standard Chinese Entry Visa, it will be cancelled in favor of the Group Tourist Visa.
Your tour operator must obtain all other permits for travel into and around Tibet prior to entering the region, whether entering overland or by flight to Lhasa.
Tibet Travel Permit
The main permit for travel into and around Tibet, the Tibet Travel Permit, issued by the Tibet Tourism Bureau in Lhasa, is the first of several permits you will need. It is applied for by your tour operator once you have booked your tour and requires a copy of your passport. Processing can take a few weeks, so it is best to apply for it well in advance.
Obtained in Lhasa, the Alien's Travel Permit is required for traveling to areas of Tibet outside Lhasa and Nagqu. It is applied for by the tour operator or guide and requires your original passport and Tibet Travel Permit.
The Frontier Pass, also known as the Tibet Border Pass, is required for all travel within the region of Tibet's borders with Nepal and India. Issued by the Tibet Armed Police Border Corps in Lhasa, it is applied for by the tour operator prior to your trip to Tibet.
The Military Permit, or Restricted Areas Permit, is needed for travel to military sensitive areas of Tibet such as Ngari and Nyingchi. The permit will be applied for by the tour operator several weeks in advance of your trip and requires a scanned copy of your Chinese Entry Visa if entering from China.