Travelling from Bhutan to Tibet, you must come through Nepal, there is no direct flight and route between Bhutan and Tibet at Moment. Flying from Bhutan to Kathmandu is a convenient and efficient way to travel between the two destinations. The flight duration is relatively short, making it a popular choice for both tourists and locals. Drukair, the national carrier of Bhutan, operates regular flights from Paro International Airport in Bhutan to Tribhuvan International Airport in Kathmandu. The flight duration is approximately 1 hour, providing a quick and convenient connection between the two cities. Paro International Airport is located in Paro, Bhutan, and is renowned for its challenging approach, surrounded by the magnificent Himalayan mountains.
Flights from Kathmandu to Lhasa are a gateway to an extraordinary journey that unveils the breathtaking beauty of the Himalayan region. Situated in the heart of Nepal, Kathmandu serves as the perfect starting point for travellers seeking to embark on an unforgettable adventure to the mystical land of Lhasa, the capital city of Tibet.
Fly from Bhutan to Kathmandu, Nepal: There are direct flights from Bhutan's Paro International Airport to Tribhuvan International Airport in Kathmandu, Nepal. You can check with airlines like Drukair or Bhutan Airlines for flight options and schedules.
Travel from Kathmandu to Tibet: From Kathmandu, you can either take a flight or travel overland to Tibet. If you choose to fly, there are flights from Kathmandu to Lhasa, the capital of Tibet. Airlines like Air China and Sichuan Airlines operate these flights.
If you prefer an overland journey, you can take a bus or hire a private car from Kathmandu to the Nepal-Tibet border at Rasuwagadhi. From there, you will need to cross the border and continue your journey to Tibet by either hiring a private vehicle or joining a tour group.
Once you arrive in Tibet, you will need to obtain a Tibet Travel Permit to enter and travel in the region. This permit is required for all foreign travellers visiting Tibet and is issued by the Tibet Tourism Bureau. To obtain the permit, you will need to book a tour with a registered travel agency in China or Tibet. The travel agency will help you arrange the necessary permits and provide you with a guide for your trip in Tibet. It's important to note that individual travel is not allowed in Tibet, and you must be part of an organized tour group to visit the region. The tour group will take care of your accommodation, transportation, and sightseeing arrangements in Tibet.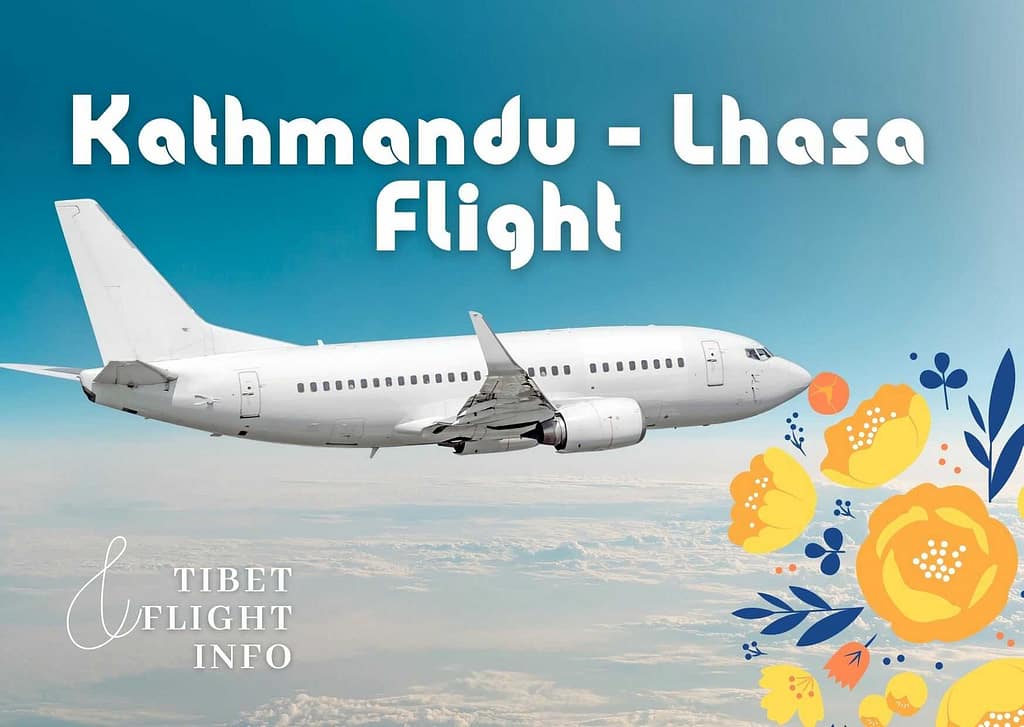 Kathmandu is the only country with a direct flight to Lhasa, a flight from Kathmandu to Lhasa costs about US$ 300.The flight time is relatively short, the journey of 600 km takes about an hour. There are two direct flights from Kathmandu to Lhasa, CA408 (12: 10-16:00) and 3U8720 (11:30-15: 10).
As you board the flight from Kathmandu, you start to anticipate the awe-inspiring sights that await you in Lhasa. The flight takes you soaring above the majestic mountains, providing a bird's eye view of the awe-inspiring Himalayan range. The snow-capped peaks glisten under the sun, casting an ethereal glow that is nothing short of mesmerizing.
As the aircraft lands at Lhasa Gonggar Airport, the excitement builds. The Potala Palace, a magnificent architectural marvel atop the Red Hill, greets you from a distance. Lhasa, known as the "City of Sunshine," captivates visitors with its blend of ancient traditions and modernity. Explore the Jokhang Temple, witness devotees praying, and roam the bustling Barkhor Street. Visit the Drepung Monastery for a deeper understanding of Tibetan Buddhism. Take a scenic drive to Namtso Lake, surrounded by snow-capped mountains. Lhasa's charm, spirituality, and natural beauty leave an indelible mark on your soul.
Whether you seek adventure, cultural immersion, or a spiritual awakening, this extraordinary destination promises to fulfil your deepest wanderlust.