China's snow-capped mountains captivate visitors with their majestic peaks and pristine snow, showcasing the country's natural beauty. The highest peak in the world, covered in white snow, is visually captivating and attracts pilgrims from various religions. Thirteen peaks resemble a mythical creature, offering diverse flora and fauna. Famous for granite peaks, ancient pine trees, and hot springs, these mountains are a hidden gem. With four towering peaks, they challenge mountaineers. Surrounded by diverse flora and fauna, the mountains dominate the skyline, showcasing rich biodiversity. China's snow-capped mountains are a testament to its natural beauty and the harmony between nature and humanity.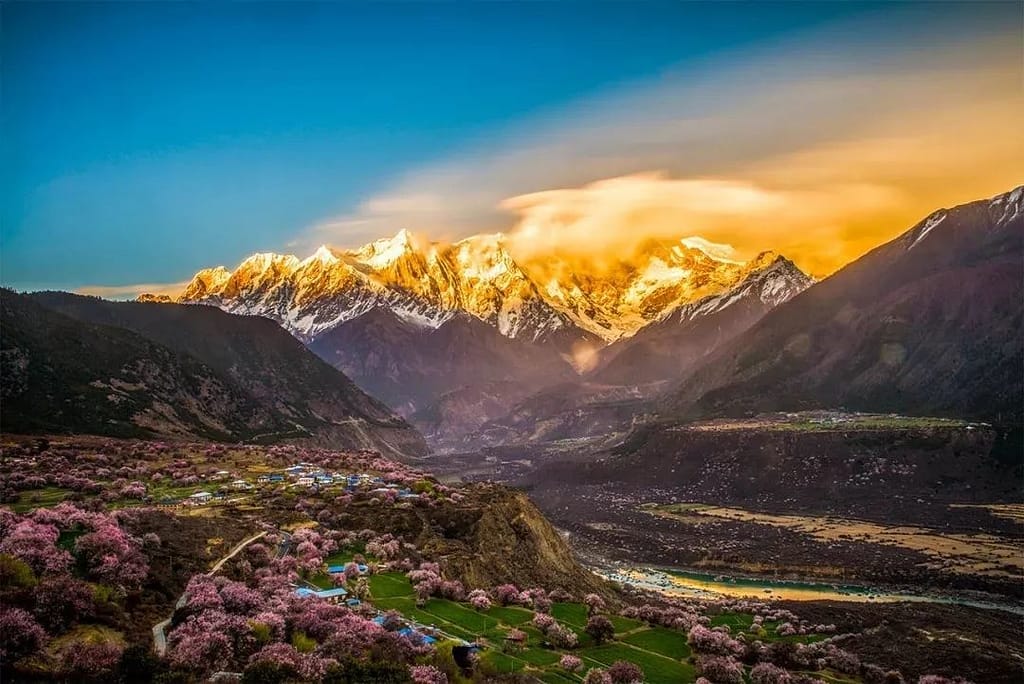 Namjagbarwa Peak, (གནམས་ལྕགས་འབར་བ།) standing at 7,782 meters above sea level, holds the distinction of being the tallest mountain in Nyingchi, Tibet. This massive triangular peak remains perpetually covered in snow, enveloped in clouds and mist, making it elusive and earning it the nickname "Shameful Girl Peak." Witnessing the beauty of this mountain would undoubtedly be a remarkable experience.
The Yarlung Tsangbo Grand Canyon has an average drop of over 5,000 meters. Namjagbarwa is like a sword piercing the sky, creating one of the most dramatic topographical changes on Earth. Its majestic presence will invigorate you, allowing you to breathe in the cool air and feel rejuvenated.
2. Meili Snow Mountain
Meili (སྨན་རི།) Snow Mountain is the inaugural among the eight sacred peaks in Tibet, known as the "Prince Thirteen Peaks". It is strictly off-limits for climbing.
From November to May the following year, there is a high likelihood of witnessing the Sunshine Golden Dome at Meili Snow Mountain, due to the dry and refreshing air during this period. There are numerous vantage points, with Feilai Temple Observation Deck and Wunongding Observation Deck being the most renowned. Against the backdrop of the night sky, the thirteen peaks of Meili Snow Mountain peacefully stand in the distance, seemingly unaltered since ancient times.
3. Gongga Snow Mountain
Gongga Snow Mountain,( མི་ཉག་གངས་དཀར་རི་བོ) standing at an elevation of 7,556 meters, holds the distinction of being the tallest mountain in Sichuan Province and is commonly referred to as the "King of Sichuan Mountains". Its formidable nature lies not solely in its height, but also in its treacherous and hazardous conditions. Since its introduction to the world by Joseph Locke, a mere 24 individuals have successfully conquered its summit, while a staggering 20 have met their final resting place on its slopes.
Moreover, Gongga Mountain remains an enigmatic and elusive sight, as access to only a handful of locations allows for a glimpse of its pyramid-shaped peak, which is visible during clear weather conditions. Surrounded by an impressive array of 45 peaks exceeding 6,000 meters above sea level, Gongga Mountain reigns supreme atop this majestic range.
4. Mount Siguniang
Mount Siguniang (རི་བོ་སྐུ་བླ) is the highest peak in the Qionglai Mountains, reaching 6,250 meters above sea level. It consists of four peaks: Yaomei, Sanguniang, Erguniang, and Daguniang, with respective heights of 6,250 meters, 5,664 meters, 5,454 meters, and 5,355 meters. These peaks are perpetually covered in ice and snow.
The Siguniang Mountain Scenic Area encompasses Changping Valley, Shuangqiao Valley, and Haizi Valley. For those with average physical strength and no particular interest in hiking, Shuangqiao Valley is the recommended choice. It offers a fulfilling day trip, allowing visitors to admire the panoramic view of the four main peaks from Maobi Bridge.
5. Yala Snow Mountain
Yala Snow Mountain, (བཞག་བྲ།) also known as Oriental White Yak Mountain in Tibetan, is a renowned sacred mountain in Tibetan regions. Situated at the intersection of Kangding, Daofu, and Danba counties in Ganzi Prefecture, Sichuan, it stands at an elevation of 5,884 meters, facing Moerduo Mountain in the northeast.
The mountain's appearance varies depending on the viewing location: from Tagong Grassland, it resembles a lotus throne, competing with the Muya Golden Pagoda; from Bamei Town, it takes the form of a crown; and when observed from Nongge Mountain, it remarkably resembles a seated Buddha.
Mount Kailash, situated in the north of Purang County in southwest Tibet, boasts a summit height of 6,656 meters above sea level. It serves as the principal peak of the Gangdise Mountains. Not only is it the birthplace of the Shiquan, Maquan, Xiangquan, and Kongque Rivers, but it also holds immense religious significance for various faiths. Standing proudly under the vast blue sky, Mount Kailash, resembling a majestic pyramid, acts as a sacred mountain and a pathway to spiritual fulfilment for devotees on the expansive plateau.
Mount Everest, the highest mountain on Earth, is situated on the China-Nepal border. Its summit is in China, while the southern part lies in Nepal. The altitude of the Mount Everest stele has significantly decreased. Apart from professional mountaineers, only ordinary tourists visiting Rongbuk Monastery can get a close view of Mount Everest. From there, I was awestruck by its towering presence and sacredness, leaving me breathless and bringing tears to my eyes.
8. Sepu Mountain
Sepu Mountain (བསངས་ཕུ་གངས་རི ) is situated in, Biru County, boasting an elevation of 6,956 meters and perpetual snow cover. Revered as the local sacred mountain's king, its main peak is among the sacred mountains of the Bon religion in Tibetan Buddhism. The route to Sepu's deep mountains is arduous, featuring numerous mud pits.
Standing here for millennia, Sepu Mountain is encompassed by surrounding mountains. Formed over thousands of years by melted ice and snow, Holy Mountain extends from the base of Sepu Mountain, dividing into two sections. The one closest to the base remains an everlasting glacier lake. In midsummer, Mount Sepu's summit is blanketed in ice and snow, shrouded by rain and fog, while the mountain's base flourishes with red flowers, green grass, and abundant water and vegetation.
9. Yang Maiyong
The head of the three patriarchs in Yading, Daocheng. The steep Yangmaiyong (Jampel Yang), resembling a sharp sword, is 5,958 meters above sea level. In Tibetan Buddhism, it embodies Manjusri Bodhisattva. Xuefeng is akin to the sword of wisdom wielded by Manjusri Bodhisattva, pointing directly at the sky. Yang Maiyong, icy and pure, proudly stands between heaven and earth. At the foot of Shenfeng Peak, enclosed by mountains, lies a wide valley where forests, grasslands, and streams harmoniously coexist, creating a majestic snow-covered panorama.
10. Nyenchen Tanglha Mountain
The Nyenchen Tanglha mountain range in Tibet is a breathtaking sight with its snow-capped peaks and rugged terrain. Mount Nyenchen Tanglha is the highest peak, attracting mountaineers. The range is home to 7,080 glaciers and serves as a vital water source for rivers and lakes. The Yarlung Tsangpo River flows parallel to the mountains, adding grandeur to the landscape. Namtso Lake lies to the southeast, protected by the range. The East Nyenchen Tanglha offers a more remote and rugged landscape. The range holds cultural and spiritual significance, with monasteries and hermitages scattered throughout. Overall, it is a captivating destination for adventure, spirituality, and tranquillity.