It should be noted that Yamdrok Yutso has established the highest paragliding base in the world at an elevation of 4,985 meters, located at the third pole of the Earth. To book a paragliding tour, one can contact the travel agency or the official account of "Shannan Golden Sculpture."
The situation for paragliding is determined by the wind direction, wind speed, and daily weather conditions. Currently, the paragliding flight project has two designated points, A and B, with both takeoff coordinates and a flying radius of 5 kilometres.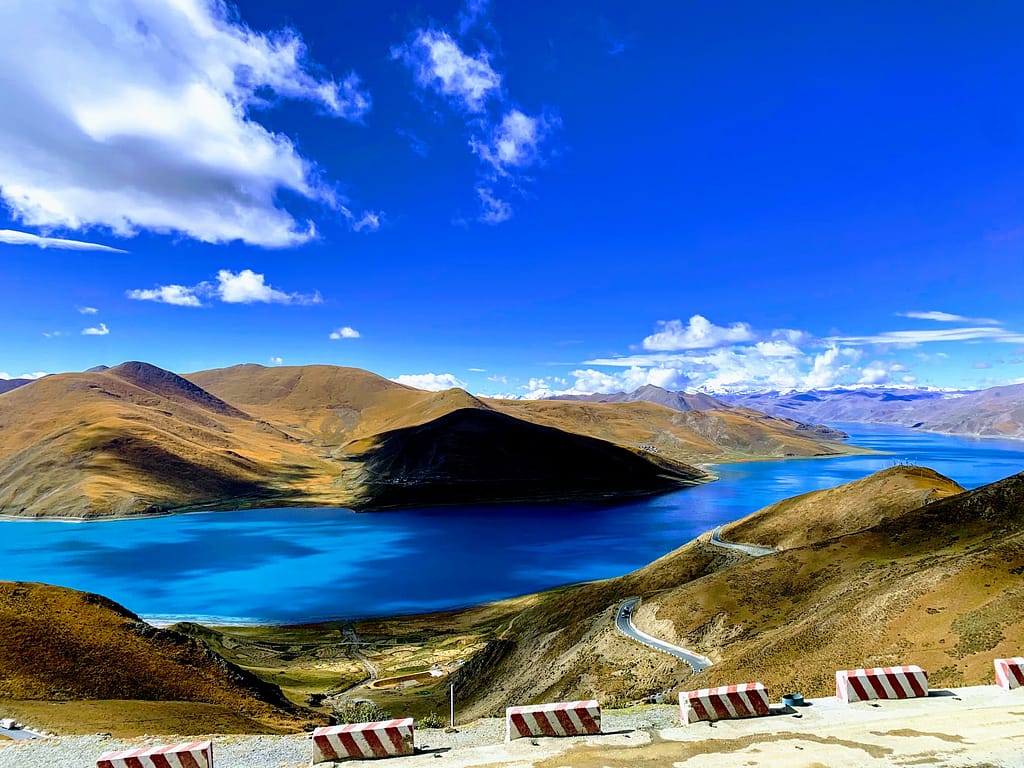 Yamdrok Yumtso Lake, also known as Yamdrok Lake, is one of the largest and most sacred lakes in Tibet, China. It is located in the southern part of the Tibetan Autonomous Region, approximately 100 kilometres southwest of Lhasa, the capital city. The lake is considered holy by Tibetans and holds great spiritual significance. 
Point A charges 1,580 yuan, and point B charges 1,880 yuan. There is a discount of 200 yuan during the May Day holiday.
Point A has a takeoff site of the 5th field located in Zamalong Village, Baidi Township, Gambala Observation Deck, Langkazi County, Shannan City, at an altitude of 5,109 meters. The landing ground is located 20th field at 4,443 meters above sea level.
Point B has a takeoff site of the 5th field located in Zayu Village, Zhangda Township, Yangzhuo Yongcuo Lujila Scenic Station, Langkazi County, Shannan City, at an altitude of 5,054 meters. The landing ground is located in 20 fields at 4,477 meters above sea level.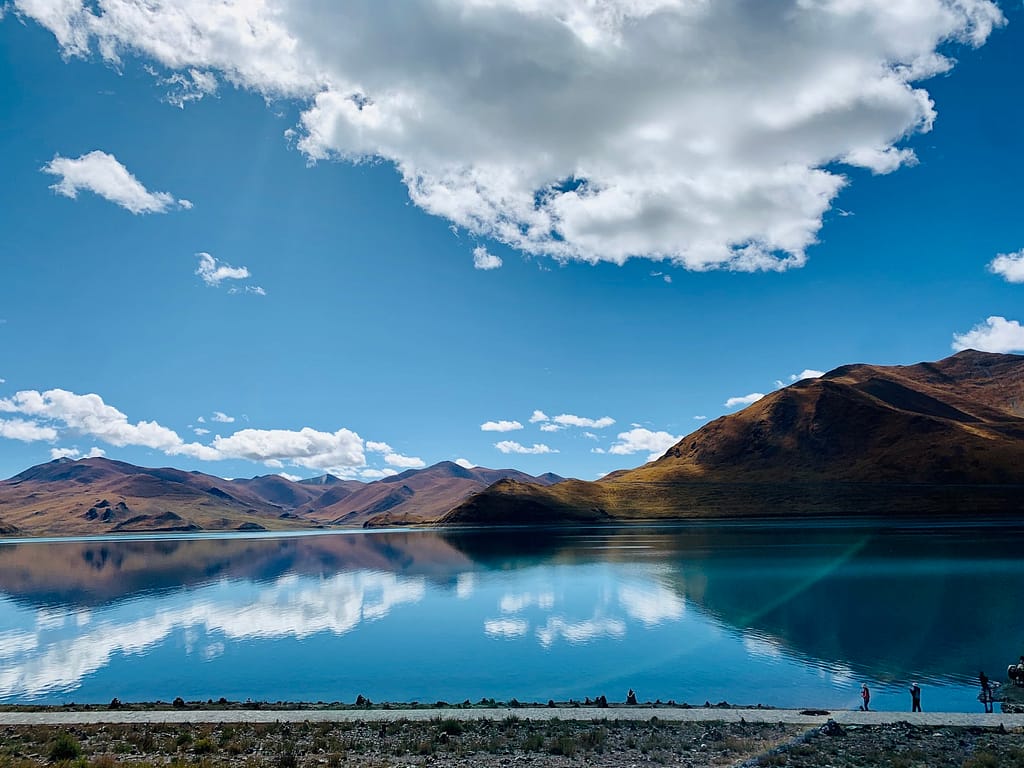 About Yamdrok Lake 
It is believed to be a transformation of a goddess and holds the power to bless and protect the region. Yamdrok Yumtso Lake is also an important pilgrimage site for Tibetan Buddhism. The lake spans an area of around 638 square kilometres and is surrounded by snow-capped mountains, including the towering Mount Nojin Kangtsang.
The turquoise blue waters of the lake contrast beautifully against the surrounding landscape, creating a picturesque scene. Yamdrok Yumtso Lake is fed by numerous small streams and glaciers, and it is also the source of several major rivers including the Brahmaputra. The lake's water is crystal clear and is home to various species of fish.
One of the notable features of the lake is its unique shape, which resembles a scorpion when viewed from above. It has multiple arms or bays, extending in different directions. The largest bay, which is also the most popular tourist spot, is known as the "Baidi Peninsula." Tourists visiting Yamdrok Yumtso Lake can enjoy breathtaking views, take boat rides on the lake, and explore nearby monasteries such as the Samding Monastery and the Pede Monastery.
The lake is also a popular spot for photography enthusiasts and nature lovers. Overall, Yamdrok Yumtso Lake is not only a natural wonder but also a significant cultural and religious site in Tibet. Its stunning beauty and spiritual aura make it a must-visit destination for travellers exploring the region.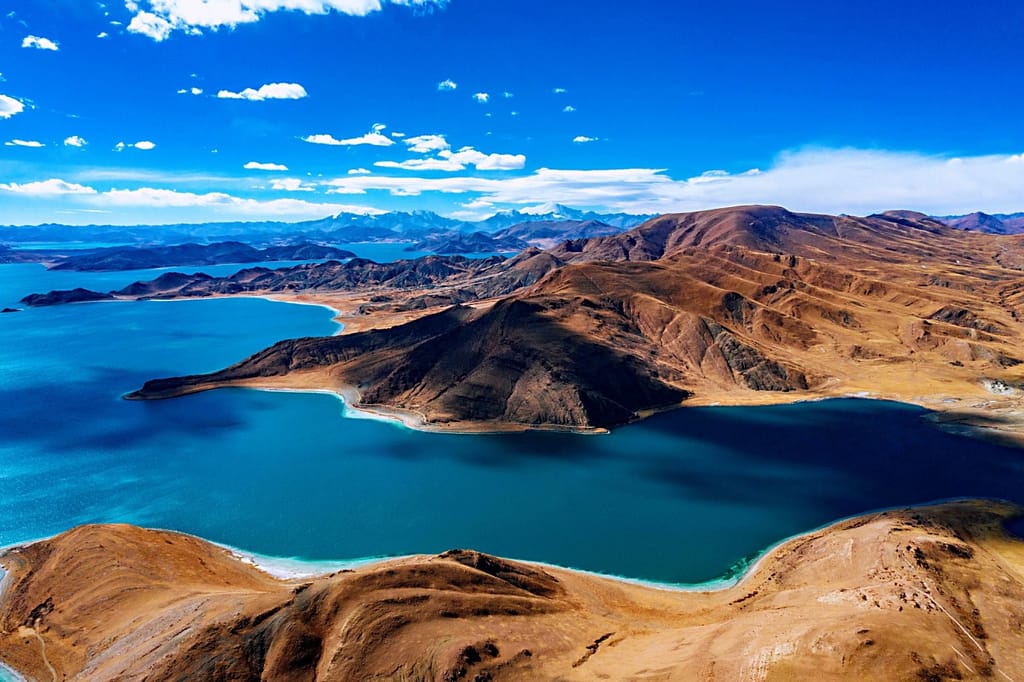 Nagartse County introduced four exclusive tourism routes, featuring nature, culture, folklore, and unique characteristics.
Route 1 (National Highway):
This route begins from Lhasa City and passes through Gambala Observation Deck, Yamdrok Lake No. 2 and No. 3 Viewing Platform, Baidi Village Tourism Experience Area, Nagartse County City, Nojin Kangsang Scenic Area, and County Town. The national highway G349 offers excellent road conditions, and travellers can enjoy picturesque views of the Yamdrok Lake Scenic Area and the surrounding rural landscape.
Route 2 (Inner Ring Line):
Starting from the county seat, this route takes you through Kalong Township (Xueqing Village), Zagang Village, Yulong Village, Yongbuduo Temple, Aza Township (Chencuo Lake), Sangding Temple, Zangqu Village Observation Deck, and County Town. The 129km journey is entirely on sand and gravel roads, offering an ideal self-driving adventure. The route maintains the original natural landscape, and visitors can relish the pastoral scenery of Yamdrok Lake and the countryside.
Route 3 (Outer Ring Line):
This route begins from Lhasa Airport New Area and includes Luyula Observation Deck, Gamalin Grassland, Yamdrok Ganza Hot Spring, Seduo Bird Island, Horseshoe Island, Dalong Town (Zong Ruins), and County Town. The 188km trip is a round-trip, and visitors can enjoy the stunning lake, migratory bird habitat, various rare birds, and Gamalin grassland, and experience the herdsman's life.
Route 4 (Pumyong Tso line):
This route starts from County and passes through Dalong Town, Tuiwa Village, Pumo Yongtso, Puma Jiangtang Township (the world's highest village), Nojin Kangsang Scenic Area, Chayangtso, and County. The route is characterized by glacial lakes and rare wild animals, providing an up-close experience of Nojin Kangsang Snow Mountain, Chayangtso Glacier, and Gangbugou Waterfall.