With a Tibet Travel permit, you can freely enter and exit Tibet using your valid passport and travel documents. However, certain areas in Tibet require a border defence card in addition to a permit. The Border Defence Card is a necessary document for domestic and international travellers who wish to visit the border regions of Tibet. Without this pass, travelling to those border areas is prohibited.
1. What is a Border Defence Permit?
The border defence permit, also known as the border pass, is not required if you only visit Lhasa in Tibet. However, if you travel to border areas or control areas like Zhangmu, Mount Everest, and Ali, you must apply for it. Occasionally, the inspection begins when you are more than 100 kilometres away from the border certificate. The validity of the border defence certificate ranges from 3 months to half a year.
2 Who needs to apply for a border defence permit?
Anyone visiting the border areas of Tibet, including mainland tourists, Hong Kong and Macao tourists, foreign guests, or Taiwan compatriots, must obtain a border defence certificate. The procedure differs for mainland tourists, who only need to apply for a border defence permit. This can be done at their place of residence or through a travel agency in Lhasa. It is recommended that Hong Kong and Macau tourists directly approach a travel agency for streamlined processing. Foreign guests and Taiwan tourists, on the other hand, must apply for a Tibet entry permit. In most cases, the travel agency will also apply for the border defence permit when arranging the Tibet entry permit, eliminating the need for tourists to apply separately.
How to apply for a Border Defence Pass as a Foreigner?
Currently, Tibet does not permit independent travel for foreign visitors. All tourists must partake in a group tour organized by a local travel agency based in Tibet. As a local travel agency, we can assist you in obtaining a Tibet Frontier Pass. Kindly provide the subsequent documents to us:
Copy of passport
Tour itinerary on our website
Copy of your China Visa
copy of your TTB permit – if you book our Tibet tour, we can apply for a TTB permit.
How to apply for the Tibet Border Defense Permit as a domestic tourist?
The border defence certificate can be processed at the ID card location or in Tibet.
Tourists can go to the government certificate centre or the Exit-Entry Administration Bureau with their ID cards to apply for travel permits to Mount Everest Base Camp. It is recommended to apply for the permits in advance and to consult the Public Security Bureau for information on border control areas in Tibet.
Is there an age limit for applying for a Border defence permit?
Chinese citizens aged 16 and above must apply for a "Border Pass" to visit border areas. Children below 16 years of age must be accompanied by their legal guardians.
When and where to apply for Border Defence Pass?
Frontier Pass is issued by Armed Police Tibet Frontier Corps in Lhasa. If you book our Tibet tour, we can deal with your all Tibet Travel Permits. The application time may be 3 to 5 days, please leave us enough time to apply for it.
How long is the Border certificate valid?
According to China's "Administrative Measures for Border Passes," the maximum validity of a "Border Pass" is 3 months. However, in Tibet, the "Border Pass" for personnel stationed in various village units is extended to 6 months.
Where is Border Pass Used?
If you travel the remote border, you will be required to show your Tibet Frontier Pass to the Check Points. Even if you fly to Kathmandu from Lhasa, you will be asked to show it at the airport.
Which areas require a Border defence certificate?
Shigatse: Sakya Monastery, Mt. Everest Base Camp, Yadong, Kyirong, etc.
Shannan: Lhodrak,
Ngari Region: Mt. Kailash, Mansarovar Lake, etc.
Nyingchi Region: Basumtso Lake, Pomi, Rawotso Lake, etc.
China-Nepal Border: Kyirong, Yadong
The main areas that need to apply for border defence certificates: are the whole territory of the Ngari area, Mount Everest, Zhangmu Port, Yadong Port, Zayu, and Medog.
Normally, it is sufficient to indicate the counties visited on the border defence card. For instance, if you plan to visit the base camp of Mount Everest, you must include Shigatse, Tingri County. In the case of visiting Kang Rinpoche and Manasarovar Lake, simply write "Ngari Pulan County" in the designated section.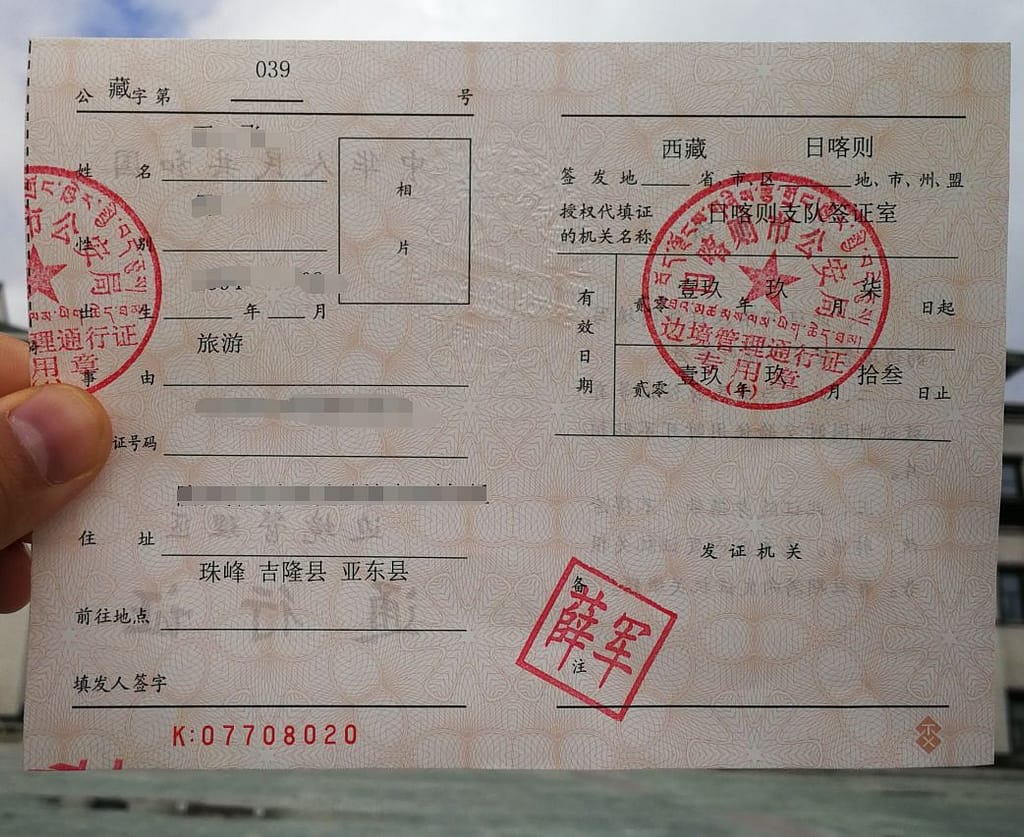 With a valid Nepalese passport and visa, you can enter the border without needing a defence card. The Tibet General Station of Entry-Exit Frontier Inspection's Law Enforcement Investigation Detachment officers handle border pass business at the Lhasa Citizen Service Center. Future applications for border passes can be made at either the Lhasa Citizen Service Center or the Law Enforcement Investigation Detachment Office of the Tibet Entry-Exit Frontier Inspection General Station.