Before Buddhism entered Tibet, this snow-covered plateau had its own traditional religious beliefs. This native religion developed by primitive Shamanism. which has great influence on the human world such as ghosts, gods, heaven, earth, mountains and rivers, earth and rocks, and even vegetation. The worship of animism has a strong shaman color and the custom of killing and sacrifice.
In the seventh century AD, Buddhism won the popularity and support from kings. It absorbed the local traditional culture to become Tibetan Buddhism. But even today, 3% of people in Tibet still believe in Bon religion. It mainly concentrated in Nyingchi, Chamdo, Nakchu, and Ngari.
Like Tibetan Buddhists, Bon religion also has its own sacred mountain, The direction of turning the sacred mountain, unlike Buddhism walk in a counterclockwise direction.
Mount Bonri is located in Mainling Mirui Township, Nyingchi, on the north bank of the Yarlung Tsangbo River Valley. It is a holy land in the eyes of the faithful.
Legend of Sacred mount Bonri
According to legend, the founder of the religion, Tonpa Shenrab Miwoche, came to Kongpo from Zhangzhung (now Ngari), and the Demon King of Kongpo turned into a mountain to try to stop it. Tonpa Shenrab Miwoche subdued the Demon King of Kongpo, and that mountain became the sacred mountain of the protector of the religion.
In the 14th century, the high monk started the pilgrimage to the Mount Bonri. Since then, people have turned to the mountain in an endless stream. During tthe year of the horse (the birth year of the Mount Bonri ) , the pilgrimage procession is mighty and spectacular.
Tashi Dongga Temple on Bonri Mountain
Tashi Dongga Temple, a Tibetan-style residence, two floors above and below, enter the main hall, dedicated to Avalokitishvara, Medicine Buddha, and Dalamenba. The temple is very small.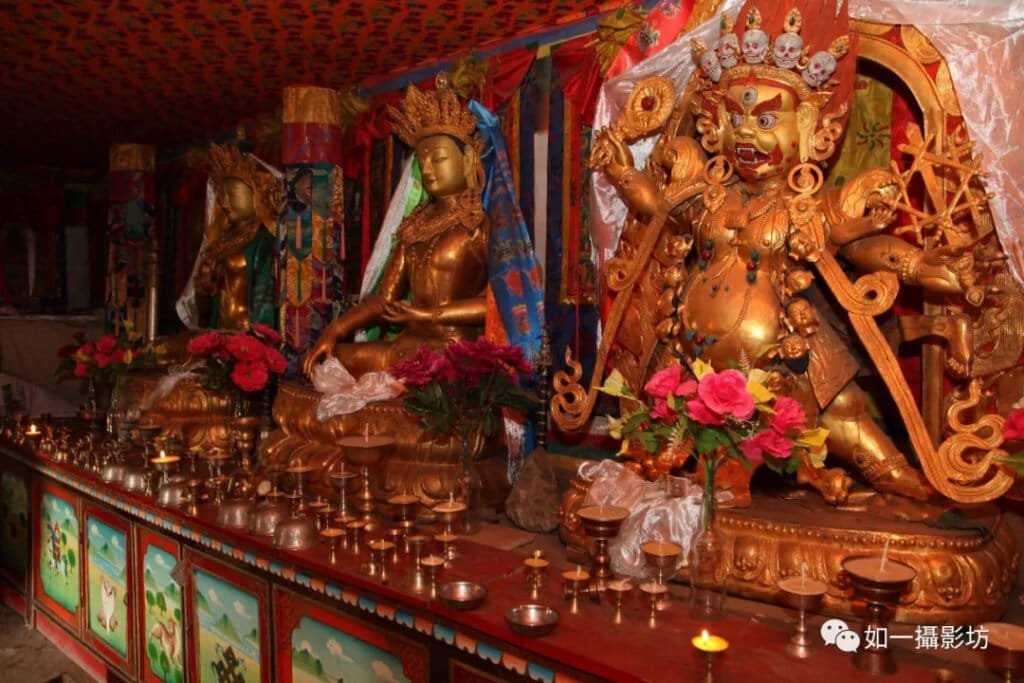 There is only one monk named Tsering Jigme, and everyone who is familiar with it calls him Bogyal, which means great king in Tibetan. There are two upstairs, one is Bogyal's bedroom, and his homemade Tibetan medicine is placed on a wooden shelf against the wall. When pilgrim people encounter headaches, wheezing, diarrhea, and physical discomfort, Bogyal will distribute medicine for free.
There is a sutra room next door, more than ten meters long and two meters wide. The north wall is full of classics such as "Kangyur" and "Tengyur", and the south wall is full of thangkas. There are two beds on the east and west sides, and Desi, a monk from Qamdo, lives in the east bed. He graduated from high school and went to a Buddhist monastery in Qamdo to become a monk.
Tashi said: Bon religion is the oldest religion in the world, nearly 500 years before Buddhism , about 1,000 years before Christianity , and 1,300 years before Islam . This religion is an active religion that participates in many mundane affairs of the world, ranging from participating in national politics, presiding over the marriage and funeral ceremonies of tribal alliances and Tsenpo, and creating Tibetan calendar, Tibetan medicine, Tibetan writing, singing, dancing and painting. It is Tibetan culture.
Pilgrim came from Far away to turn around Mount Bonri
Near the Tashi Dongga Temple, there are more than a dozen houses that provide accommodation for people who turn to the mountain. Five of them are operated by Guest house. They also include a shop selling prayer flags, mineral water, instant noodles, cigarettes, and rubber shoes.
This one is from Nakchu. The young man, who is not tall, has a strong body, is cold, wears a short-sleeved T -shirt, goes in and out, and is constantly busy. In the evening, 8 pilgrims came, led by Guide, who had walked more than 500 kilometers from her hometown to Nyingchi for 19 days. She planned to make 24 laps, because this is the year of Sheep, 24th birthday.
Several nuns arrived in clothes get wet snow, around the stove fire. Their experience of turning the mountain is admired by everyone. Auntie, 37 years old, from Nakchu , has circled the sacred mountain of Bonri for more than 500 times in 5 years . Dolma, 42 years old, has made more than 1,000 laps in 8 years . They went around in two days, staying in Nyingchi for one night, and staying here for one night. Guest house did not charge for their accommodation and provided free tea. They wore 20 to 30 pairs of shoes and ate mostly food given by people on the road.
It was clear, and the doors of the next room were all open. It turned out that pilgrimren left quietly at three or four in the morning. With prayer flags hung on both sides of the mountain road.
Views and Sacred signs on Mount Bonri
For thousands of years, countless people who turned to the mountain have been walking on this mountain road without stopping, stepping on a trench-like deep ditch. On Mount Bonri, there are relics such as big rocks, sacred birds, sacred waters, stone carvings, and ladders.
The so-called ladder to Heaven is a giant tree that grows on Mount Bonri. According to legend, it is a tree that reaches the sky with prayer flags and sacrifices hung on it. There is a peculiar local custom, which is also related to this religion. The people put children who died early in a box, and the tree is buried among the many branches of the tree, so that the soul will be more likely to ascend to heaven.
At noon, People stepped on the snowy mountain road on our knees, panting and boarded the pass of the Mount Bonri, and people were exhausted enough. Prayer flags were hung all around, flying vigorously in the strong wind. The brown mountains in the distance were continuous, and the snow-covered slopes shone with dazzling white light.