Yunnan Tibet Railway belongs to the "Five Railways to Tibet" together with Qinghai Tibet Railway, Sichuan Tibet Railway, Xinjiang Tibet Railway and Gansu Tibet Railway. Various cultures from different ethnic groups and many fascinating attractions along the railway make it in great expectation. Started in 2009, some sections have already been open to traffic, while others are still under construction and are to be built in the future.
People who live in "South of the Clouds", the so-called Yunnan, will have a convenient and fast way to get into Lhasa, the famous "City of Sunlight" after the Yunnan Tibet Railway's operation. Previously, changes of seasons and weather severely prevent tourists from reaching Lhasa Tibet when they made schedules. In future, tourists in main pass cities, for instance, Kunming, Dali, Lijiang, Shangri-La, Nyingchi can arrive Lhasa within one day and at any time as planned.
It is believed that although the operation time of it remains unknown now, those diverse ethnic cultures and glamourous scenic spots in Yunnan and Tibet will afterward appeal to more and more tourists.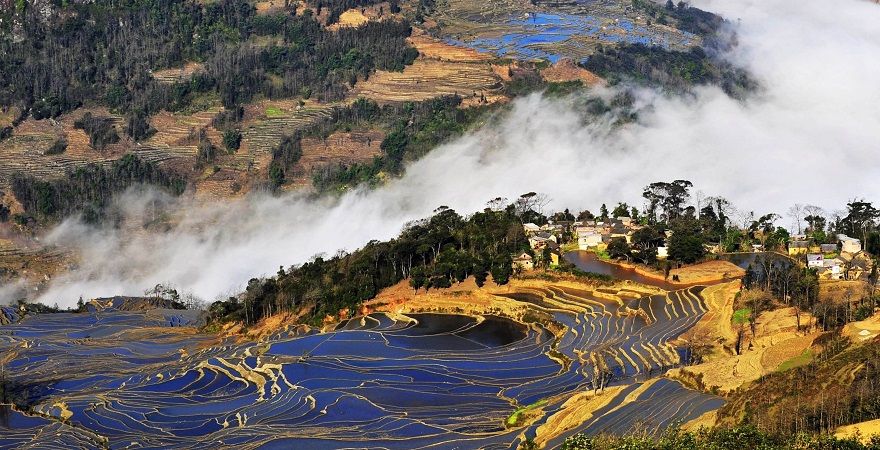 Beautiful View of Terraced Fields in Yunnan
Planned Route
Yunnan Tibet Railway starts from Kunming, the capital city of Yunnan Province, extends to west Guangdong, which section is part of Chengdu Kunming Railway, after reaching Dali, the rail goes northwest to Lijiang along the famous picturesque Erhai Lake, then passes through the Tiger Leaping Gorge to Shangri-La. According to a feasibility study report (FSR) conducted by the China Railway No.2 Bureau, the following direction may be that, the line will run across Luole Mountain and Baima Snow Mountain to Dechen, where is the border of Tibet and Yunnan, crossing Langcang River and Meri Snow Mountain to Tibet area, later it will share rail with Sichuan Tibet Railway in Markham of Qamdo in Tibet, finally join the Lhasa Nyingchi Railway to destination-Lhasa.
Main Passing by Cities: Kunming, Guangtong, Dali, Lijiang, Shangri-La, Dechen, Markam, Bomi, Nyingchi, Tsetang, Gongkhar, Lhasa.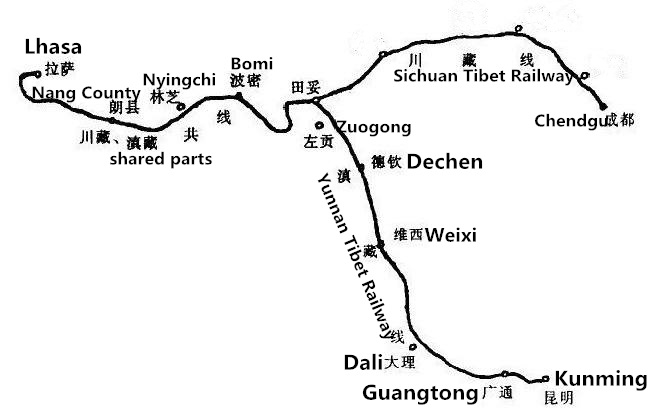 Planned Route of Yunnan Tibet Railway
Construction Schedule
Totally, there are five sections are included in Yunnan Tibet Railway, which are Kunming Dali railway, Dali Lijiang Railway, Lijiang-Shangri-La Railway, Shangri-La-Nyingchi Railway and Nyingchi Lhasa Railway.
Among the whole line, there is 164 kilometer of Yunnan Tibet Railway was completed, about 161 kilometers are under construction and 300 kilometers are to be built subsequently.
The following information gives you an overview of the construction schedule.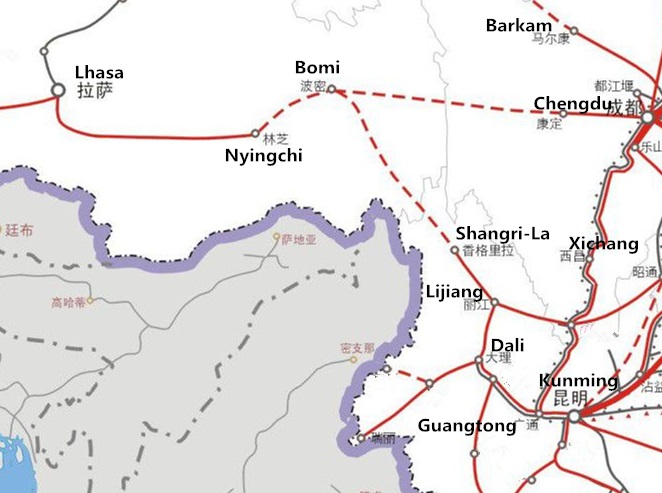 Five Sections of Yunnan Tibet Railway
| Sections | Kunming-Dali | Dali-Lijiang | Lijiang-Shangri-La | Shangri-La-Nyingchi | Nyingchi-Lhasa |
| --- | --- | --- | --- | --- | --- |
| Distance(KM) | 359 | 164 | 161 | 900 | 435 |
| Construction Date | Completed in 1998( existing part) | Started in 2004 and completed in 2009 | Started in 2014, will be completed in 2020 | So far this section has not been built yet | Started in 2014, will be completed in 2020 |
| Construction Progress | Completed ( existing part) | Completed | Under Construction | Will be built in future | Under Construction |
Current transportation
For now, tourists who leave for Tibet Tour from Yunnan have two options: flight and highway, the former one is time-saving and the later one is more economical.
Plane: If tourists want to flight to Lhasa from Kunming, there is about 6 direct flights and 8 transit flights available every day, which usually only takes 3 hours. Also, traveling to Nyingchi from Kunming by plane is another alternative, more than 15 transit flights you can choose.
Highway: Yunnan Tibet Highway is known as "The Paradise of Road Trip". Many self-driving travelers select this route to experience the beautiful scenery along the road. Beginning from Kunming, passing through Dali, Lijiang, and Shangri-La, Yunnan Tibet Highway then joins the China National Highway 318 of Sichuan Tibet Highway in Markam. It normally takes 10 days to arrive Lhasa with a full length of over 2,000 kilometers driving distance. Sightseeing includes snow mountain, forest, glacier, and grassland, thrilling but worthwhile. Due to the complex road condition, a highway is not recommended for newcomers.
Train: there is no direct train to Lhasa from Yunnan at present, passengers who would like to have train travel experience can take transit train in nearby Chengdu or Chongqing, which takes over 40 hours. Please notice that trains depart from these two cities every other day, not daily.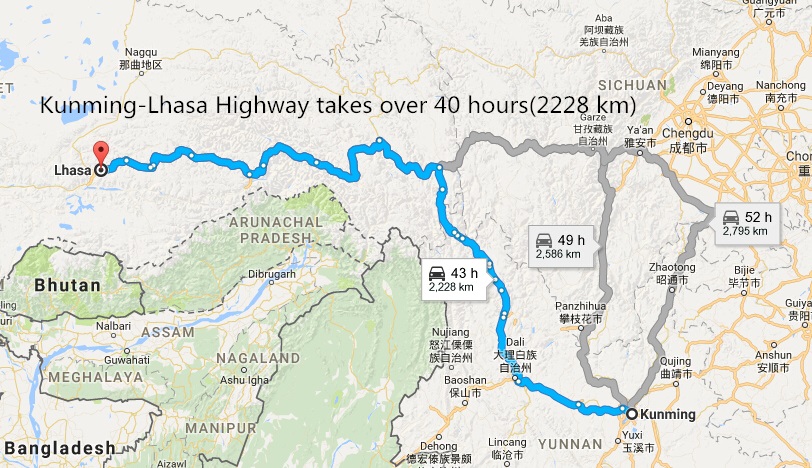 Highway Route to Lhasa From Yunnan
Scenery along the Yunnan Tibet Railway
Yunnan Tibet Railway has the lowest average elevation among the "five railways to Tibet. Dali, Lijiang, and Shangri-La are very famous destinations in Southeast China, thus, tourists have chance to enjoy leisure in old towns or Erhai Lake, roam in Dali in blossom seasons, have sunbath and play with cats in ethnic homestay, cycle around Lu Gu Lake, explore "the Lost Paradise" where holy snow-capped mountains stand, etc.
Apart from the charming natural scenery, there are different places of historical interest along the railway, especially in Yunnan and Tibet regions.